Web shop MyDigitalDiscount has crossed the line between e-tailer and SSD manufacture. Making the leap for MDD wasn't that difficult, the company works closely with several other manufactures, consulting on their future products. MyDigitalDiscount's new line up of products comes under the brand name of MyDigitalSSD. We think the name is fitting. MyDigital doesn't have their own controller or flash manufacturing facility just yet, but they are working with some pretty big partners.
MyDigital's expertise has always been in the notebook and netbook markets. During the netbook boom a couple of years ago MyDigital helped pioneer the modification market. Products like the Dell Mini9 were treated with faster SSDs, more system memory and even touch screens. When a component wasn't available, MDD worked with their partners to have purpose built upgrade components manufactured.
It's now 2012 and the netbook market has evolved into ultrabooks. Ultrabooks use full speed notebook components, but keep the ultra-thin design first found on netbooks. In order for ultrabooks to take shape, 9mm HDDs had to go, enter mSATA.
mSATA and the close variants are slated to make a grand entrance this year and not just in ultrabooks. At CES, four out of five next generation GIGABYTE desktop motherboards on display using the Ivy Bridge chipset sported mSATA slots. Intel's Smart Response Technology and NVELO's Dataplex software layer, also commonly referred to as SSD Cache can both quickly turn a small mSATA drive into instant IOPS performance beast while still offering the capacity of your large data capacity HDD.
The MyDigitalSSD DDRII Super Cache can be used as either a cache drive or as a primary boot drive. Let's take a look at the specifications.
The MyDigitalSSD DDR2 Super Cache uses the 50mm mSATA format. This format is quickly being adapted across the consumer industry. Obviously the Super Cache part of the name refers to the drives ability to be paired with a spinner in a SSD cache array. The DDR2 part is much less obvious.
The MyDigitalSSD DDR2 Super Cache is the first mSATA drive to use Toshiba Toggle Mode flash. Toggle Mode flash is sometimes referred to as DDR since it transmits I/Os on both the rise and fall of the signal.
At this time the Super Cache is only available in 32GB capacity. This may change over time, but for now 32GB is all we have. This model has a claimed read speed of 270MB/s, right around the upper limits of SATA II. The write speed is rated at 110MB/s. Obviously the Super Cache isn't using a SandForce controller, but it doesn't have a SandForce price either. The controller used is a new model from Phison, a budget friendly controller manufacture based out of Taiwan with design and manufacturing backed by Toshiba.
To date we've seen a few mSATA drives and more are shipping this week. By a large margin the MyDigitalSSD DDRII Super Cache is the lowest priced model. It also has the best price per capacity model we've seen to date. At just $59.99 at MyDigitalDiscount, the drive has nearly twice the available user capacity of the Intel 311 Series and costs 40% less.
At the bottom of the specifications chart MDSSD lists several portable computers that support mSATA drives.
The MyDigitalSSD DDRII Super Cache ships in a sealed, padded mailer envelope. Inside the drive is wrapped in a special antistatic bag and then wrapped in an additional layer of bubble wrap.
The two mounting screws that we see here fit most portable computers that don't use a clip mounting system.
The drive uses a Phison controller with four Toshiba Toggle Mode flash chips and a single DRAM cache buffer. Two flash chips are on this side of the drive.
The other two Toggle Mode flash chips are on this side as is the DRAM buffer.
Our Runcore T50 SATA III mSATA drive shipped with a handy mSATA to SATA III adapter. We use this for testing mSATA drives in our standard storage test rigs so we can keep the drive testing in a controlled environment and get reliable performance numbers.
We would like to thank the following companies for supplying and supporting us with our test system hardware and equipment: AVADirect, GIGABYTE, Cooler Master, LSI, Corsair and Noctua.
You can read more about TweakTown's Storage Product Testing Workstation and the procedures followed to test products in this article.
We're using the drive in an adapter today to avoid any notebook power saving features that also impact performance. The MyDigitalSSD DDRII Super Cache uses SATA 3Gb/s technology, but some of the drives in our performance charts scale to SATA 6Gb/s. Every other drive in the charts also cost more, in many cases much more than the MDSSD mSATA drive.
This is something to keep in mind while scanning over the performance numbers.
Version and / or Patch Used: 2.34
ATTO is used by many disk manufacturers to determine the read and write speeds that will be presented to customers.
Well now… so much for the MyDigitalSSD DDRII Super Cache mSATA only writing at 110MB/s. In our ATTO test we achieved a write speed of over 240MB/s. The write speed also eclipsed the claimed performance of 270MB/s; we hit 276MB/s. It's always nice to see a drive outperform the claimed specs.
Version and / or Patch Used: 4.00
Developer Homepage: http://www.efdsoftware.com
Product Homepage: http://www.hdtune.com
HD Tune is a Hard Disk utility which has the following functions:
Benchmark: measures the performance
Info: shows detailed information
Health: checks the health status by using SMART
Error Scan: scans the surface for errors
Temperature display
HD Tune Pro gives us accurate read, write and access time results and for the last couple of years has been gaining popularity amongst reviewers. It is now considered a must have application for storage device testing.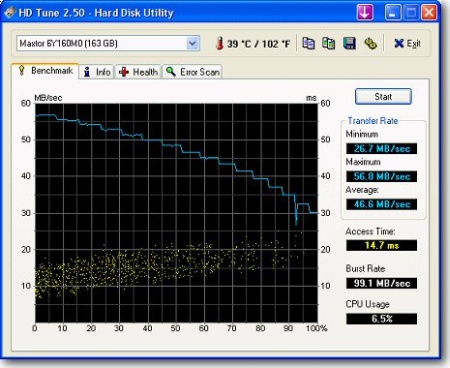 When it comes to sequential read performance the MyDigitalSSD DDRII Super Cache 32GB SSD is a little beast. The drive matches beats the other two SATA II spec drives on the chart. Obviously the SATA III Runcore T50 is faster, but it also has a $299.99 price tag.
The Super Cache is also a solid performer in the sequential write test.
Version and / or Patch Used: 1.60
Developer Homepage: http://www.aida64.com
Product Homepage: http://www.aida64.com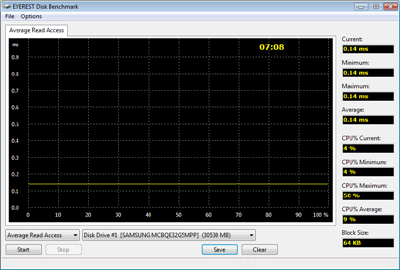 AIDA64 offers several different benchmarks for testing and optimizing your system or network. The Random Access test is one of very few if not only that will measure hard drives random access times in hundredths of milliseconds as oppose to tens of milliseconds.
Drives with only one or two tests displayed in the write test mean that they have failed the test and their Maximum and possibly their Average Scores were very high after the cached fills. This usually happens only with controllers manufactured by JMicron and Toshiba.
The read access time is solid; we measured just .06 milliseconds with a solid and steady line across our graph.
We couldn't say the same about the write latency. The MyDigitalSSD DDRII Super Cache had the highest latency of the group.
Here we see the actual graph from the write latency test. We tried a few other tests and determined the DRAM cache buffer to able to absorb the hit and keep latency around a half a millisecond, but once the buffer is full, latency quickly rises. This happens at around 20% of the drives capacity… most users aren't going to write that much data to a drive this size that quickly.
Version and / or Patch Used: 3.0 Technical Preview
Developer Homepage: http://crystalmark.info
Product Homepage: http://crystalmark.info/software/CrystalDiskMark/index-e.html
Download here: http://crystaldew.info/category/software/crystaldiskmark
CrystalDiskMark is a disk benchmark software that allows us to benchmark 4K and 4K queue depths with accuracy.
Key Features:-
* Sequential reads/writes
* Random 4KB/512KB reads/writes
* Text copy
* Change dialog design
* internationalization (i18n)
Note: Crystal Disk Mark 3.0 Technical Preview was used for these tests since it offers the ability to measure native command queuing at 4 and 32.
Here we are looking at 4k and native command queuing performance. The MDSSD DDRII Super Cache doesn't scale well with NCQ. At four commands the drive is actually just a bit slower than a single command. The drive does scale when more commands are stacked. With 32 commands the read speed triples, but other products scale much better.
The NCQ write scaling is non-existent, something we've observed with Phison controllers in the past.
Version and / or Patch Used: 1.0.0
Developer Homepage: http://www.futuremark.com
Product Homepage: http://www.futuremark.com/benchmarks/pcmark-vantage/
Buy It Here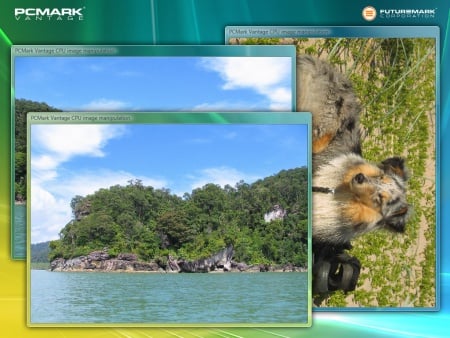 PCMark Vantage is the first objective hardware performance benchmark for PCs running 32 and 64 bit versions of Microsoft Windows Vista. PCMark Vantage is perfectly suited for benchmarking any type of Microsoft Windows Vista PC from multimedia home entertainment systems and laptops to dedicated workstations and high-end gaming rigs. Regardless of whether the benchmarker is an artist or an IT Professional, PCMark Vantage shows the user where their system soars or falls flat, and how to get the most performance possible out of their hardware. PCMark Vantage is easy enough for even the most casual enthusiast to use yet supports in-depth, professional industry grade testing.
FutureMark has developed a good set of hard disk tests for their PCMark Vantage Suite. Windows users can count on Vantage to show them how a drive will perform in normal day to day usage scenarios. For most users these are the tests that matter since many of the old hat ways to measure performance have become ineffective to measure true Windows performance.
HDD1 – Windows Defender
HDD2 – Gaming
HDD3 – Windows Photo Gallery
HDD4 – Vista Startup
HDD5 – Windows Movie Maker
HDD6 – Windows Media Center
HDD7 – Windows Media Player
HDD8 – Application Loading
The Super Cache is the slowest in our real-world test, but it's also the cheapest. The performance is still much better than mechanical drives, even the fastest 10,000 RPM models. Given that mobile drives are on average 5,400 RPM and the fastest still only use 7,200 RPM spinners, the Super Cache is an excellent upgrade when you can use it.
Version and / or Patch Used: 1.2.3577.40358
Developer Homepage: Alex Intelligent Software
Product Homepage: Alex Intelligent Software
Download here: http://www.alex-is.de/PHP/fusion/downloads.php?cat_id=4&download_id=9
AS determines the performance of Solid State Drives (SSD). The tool contains four synthetic as well as three practice tests. The synthetic tests are to determine the sequential and random read and write performance of the SSD. These tests are carried out without the use of the operating system caches.
In all synthetic tests the test file size is 1GB. AS can also determine the access time of the SSD, the access of which the drive is determined to read through the entire capacity of the SSD (Full Stroke). The write access test is only to be met with a 1 GB big test file. At the end of the tests three values for the read and write as well as the overall performance will be issued. In addition to the calculated values which are shown in MB/s, they are also represented in IO per seconds (IOPS).
Note: AS SSD is a great benchmark for many tests, but since Crystal Disk Mark covers a broader range of 4K tests and HD Tune Pro covering sequential speeds, we will only use the Copy Benchmark from AS SSD.
The high sequential speed carries over in the file copy test where the drive equals or outperforms the other SATA II drives.
Version and / or Patch Used: 6.1
Developer Homepage: http://www.passmark.com
Test Homepage: http://www.passmark.com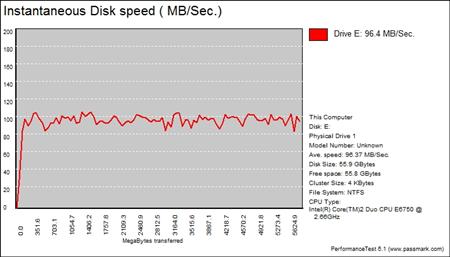 Many users complain that I/O Meter is too complicated of a benchmark to replicate results so my quest to find an alternative was started. Passmark has added several multi-user tests that measure a hard drives ability to operate in a multi-user environment.

The tests use different settings to mimic basic multi-user operations as they would play out on your server. Variances is read / write percentage as well as random / sequential reads are common in certain applications, Web Servers read nearly 100% of the time while Database Servers write a small amount of data.
The Workstation test is the only single user environment and will be similar to how you use your system at home.
mSATA drives aren't designed for enterprise tasks, but you never know when someone will design a massive array that fits inside a 1U rackmount. We still like running these tests, but don't generally analyze the results on consumer drives.
The MyDigitalSSD DDRII Super Cache mSATA 32GB is a niche product now, but the niche will grow rapidly over the next few months.
Once Intel launches everything 77 Series, (Ivy Bridge) notebooks, desktops, ultrabooks and other products with built in Smart Response Technology, the demand for mSATA and 2.5″ cache drives will grow. MyDigital is once again on the leading edge of technology. The only problem is we have this drive now and there are very few products available that we can use it with.
If you are someone with an empty mSATA slot in your notebook today then things are different. You can use the Super Cache today as either a cache drive (if you have a Z86 chipset or access to Dataplex software) or as a small boot drive. We know MyDigitalSSD is in talks with NVELO, trying to get Dataplex software as an add-on. That deal isn't finalized at the time of writing. The Super Cache would be complimented well with Dataplex, so hopefully that pans out for some of the notebook users. Once Ivy Bridge comes out there isn't much of a reason for users to pay for Dataplex though as Smart Response Technology is free and built into the chipset.
Aside from the speed and what it can do for your user experience, the best part about the DDRII Super Cache is the price. At just under $60 this 32GB drive with advanced Toshiba Toggle Mode NAND is quite the bargain. The only thing we could really ask for at this point is for MyDigitalSSD to release larger sizes for even more cache capacity, an area where Intel's 20GB SRT drive lacked.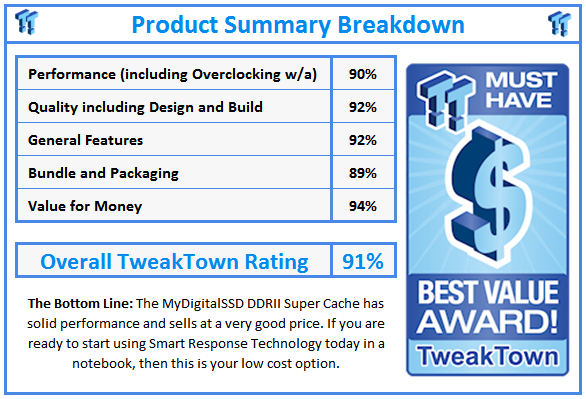 PRICING: You can find products similar to this one for sale below.

United States: Find other tech and computer products like this over at Amazon.com

United Kingdom: Find other tech and computer products like this over at Amazon.co.uk

Australia: Find other tech and computer products like this over at Amazon.com.au

Canada: Find other tech and computer products like this over at Amazon.ca

Deutschland: Finde andere Technik- und Computerprodukte wie dieses auf Amazon.de